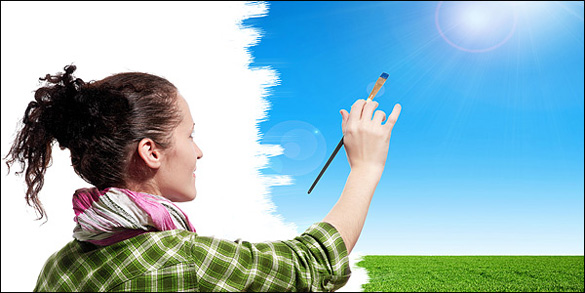 Despite the widespread myth, creativity is not an inborn talent. It's a combination of factors such as professional experience, the practice of brainstorming, exchange of views with many different people and the diversity of interests. The natural curiosity about everything, the trend towards fun and a healthy dose of laziness are also characteristics of creative people.
Hanging out with friends, taking several breaks during the day and trying to explain your project (or new idea) to a child can increase your creativity to a point you can't imagine.
In a previous article we outlined 10 ways you can become more creative by organizing your time and activities better and in this post we take it one step further. There are simple everyday things you can do to keep your creativity levels high and keep your mind searching for your next big idea.
30 tips to boost your creativity
1. Sleep more. Say no to a couple of outings during the week-preferably those that precede important meetings-to sleep early.
2. Spend at least five minutes every day to work on your most important project.
3. Take a break, preferably to go out and walk, every time you feel 'stuck'.
4. Take more breaks in general.
5. Try to meet with your colleagues or clients outside the office. Even in the unlikely event that the discussion will not relate to work issues, you can use these gatherings to build a stronger team spirit and cooperation.
6. Listen to music in the office, even with headphones.
7. Reward yourself for your small successes. A small gift, a dinner at your favorite restaurant, a round of drinks with friends or whatever pleases you enough to let you 'relax' and motivate you for the next achievement.
8. Take your laptop and work at your favorite café.
9. Clean and organize your office. Add splashes of color or images that relax your mind or photographs of loved ones that inspire you.
10. Take five minutes each day preferably in the morning when your mind is still fresh to write down as many new ideas you can think.
11. Read different types of books-literature, history, essays, analyzes, etc.-that have nothing to do with your work.
12. Do not limit your outings and daily meetings in your close circle of friends. Seek to meet and exchange views with many different people-age, hobbies, interests, and lifestyle.
13. Set specific (but not very strict) deadlines for your project.
14. Consider three alternatives for each idea you have.
15. When you are away from the office (or on leave), set a priority to have a good time. Spend less time in the afternoon for routine activities (e.g. supermarket) and more on things you like and enjoy.
16. Go to the movies, go out with friends and have fun.
17. Think of ways to achieve your goals and complete the job in half or even less time.
18. Discuss your ideas with three people you trust and ask them how you can improve them.
19. Try to explain your new project or idea to a child. It will help you simplify your thoughts and you will feel that you know it better and most likely the questions will help you think about different views or examine parameters that you had not thought of.
20. Write down the dreams you can remember every morning when you wake up. Many times during the day the human mind takes seemingly insignificant information that does not manage to process and this enters into the subconscious-which is what dictates some of our dreams. If you have a little more imagination (than the average), your dreams can be an excellent source of inspiration and creativity.
21. Reduce or remove completely the time spent on unnecessary bureaucracy and procedural work- memo writing, arranging meeting etc.
22. Reduce the time spend on meetings.
23. Make an assessment of the day and acknowledge your successes-however small they may be-before sleep.
24. Spend some time each day to do brainstorming with a colleague.
25. Open a book or magazine to a random page and look for inspiration in the first thing you read.
26. Trust your instincts more, take more risks and seek the approval of your manager only for ideas and projects that is really necessary.
27. Ask for more feedback from your customers.
28. Ask yourself, 'What's the worst case scenario if I fail?'
29. Put a little adventure in your life (outside the office): do ski, surf, rafting, subscribe to a club. You will 'learn' to take risks at work, will help to relieve tension and-most importantly-will entertain you.
30. Do not be afraid to ask for help when you need it. Not for someone to do the work for you, but to learn and be inspired by people who know more, or just happen in a given case to have a better idea.