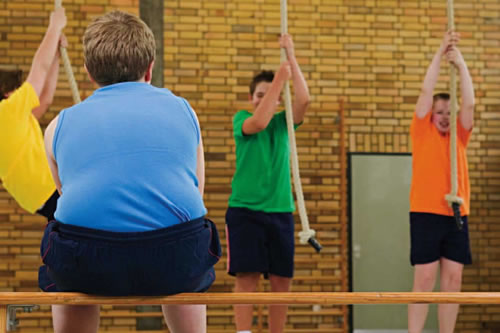 Obesity is the result of following a bad diet combined with limited physical activity. The car, escalators, television, computer, video games are daily habits that "steal" time from physical activity. Children, who spend on average 4 hours in front of the TV or computer monitor daily, weigh more (have a higher BMI) than children who watch less than 2 hours / day.
Children less than 2 years are not recommended to watch any TV, while over 2 years to watch less than 2 hours a day. The international recommendations for health education recognize physical activity as a key factor in ensuring good health and suggest its inclusion in everyday life as a way of life.
They recommend at least 60 minutes of moderate to intense exercise per day (even cumulatively, i.e. 3 sets of 20 minutes) for all children over 2 years, particularly emphasizing the importance of pleasure and fun while exercising. The specific duration and frequency of physical activity promotes healthy growth and provides significant physical, mental, and social benefits.
More specifically, a training program 40 minutes / day, 5 times a week for 4 months in obese children can improve the components of the metabolic syndrome, including the proportion of fat in the body. It is important to note that these benefits are maintained and kept as long as you keep exercising.
Although physical activity alone may not lead to significant weight loss, the psychological benefits of exercise are very important. Improved psychological parameters may help obese kids to better manage overeating and negative emotions.
In summary the most important benefits of regular exercise on the physical and psychological world of obese children are:
Benefits of regular exercise
Increase energy expenditure of the body i.e. you burn more calories
Prevent future weight regain
Help build and maintain healthy bones, muscles and joints
Improve fitness, increases strength and builds more muscles
Improve posture and flexibility, coordination and movement control
Developing a healthy cardiovascular system (heart and lungs)
Improving socialization through participation in group activities
Maintain or increase lean body mass (which improves the metabolic rate and physical condition)
Reduces side effects of exercise by improving the robustness
Reduce risk of chronic diseases (obesity, diabetes, blood pressure etc.)
Adopting a healthier lifestyle (e.g., avoidance of smoking, alcohol and drug use)
Better performance in school
Reduce stress and avoid depression
Improved confidence and self-esteem, feelings of pride, less guilt, sense of balance in life and enjoyment of tackling challenges and achieving goals
See also: 20 benefits of aerobic exercises
The role of the parents in the fight of childhood obesity
From the above, it is clear that regular exercise has many psychological and physical benefits for the child, so parents should motivate their children to be physically active.
Help them find a sport or hobby
To accomplish this, you first need to limit the time spent in sedentary activities (e.g., television, computer, console games). Then, you should encourage them to participate in outdoor activities that involve movement (e.g., basketball, dancing, etc.). You need though to let them choose for themselves, perhaps with the guidance of a trainer, what they prefer based on what is fun and what they like to do. You need to explain to them that the goal of doing sports is not to win but to participate and give your best performance.
Exercise is not only the gym
Non-formal exercises can also help increase your child's physical movement. Riding their bike, playing in a nearby park, walking the dog are pleasant habits for the child who don't want to leave the couch. Even some of the classic outdoor games like hide and seek, skipping ropes, rubber and apples are very good opportunities for exercise. It is good to find a suitable activity for each season. E.g. swimming in the summer, hide and seek in the winter, music and dance at home.
Be a role model
The involvement of parents in this process is always an incentive for the children. It is well known that the child seem to replicate the behaviour of their parents. Parents should be physically active as well and why not do the same exercises with their children.