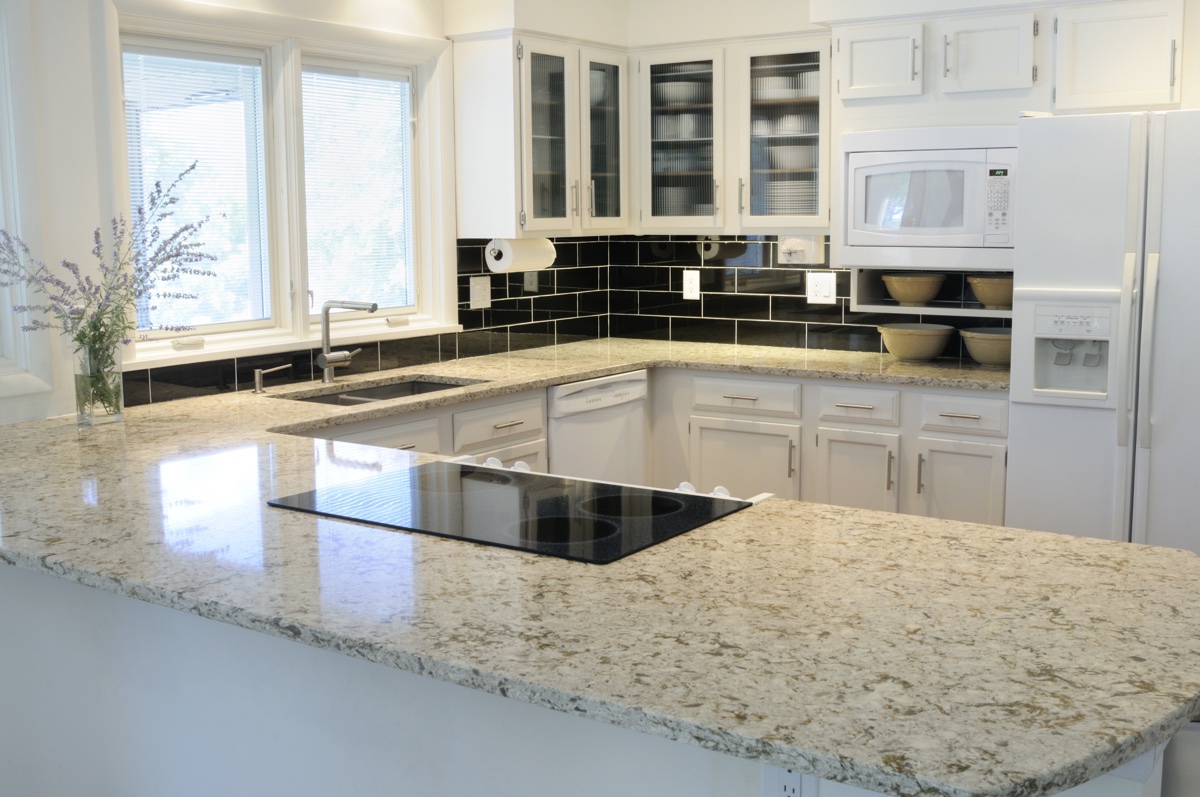 If you are thinking of remodelling your kitchen but are stuck between quartz countertops and granite countertops, then, you know quite well, choosing one could be quite a daunting task.
While the perspectives are bound to vary as per an individual, I will try to give you a complete idea and all the things and facts about these countertops, so you can have opinions of your own. (However, I will make my choice clear at the end of the discussions.)
Here below is a comparison between granite and quartz countertops.
Manufacturing Process
Before diving in to comparing between granite and quartz, you should be aware of their manufacturing process.
Granites are naturally found in the heart of the earth as they are available in the form of huge chunks of stone. After they are quarried off, these huge blocks are cut into separate individual slabs and polished to obtain a final granite countertop for a kitchen.
On the other hand, quartz countertops are prepared artificially from crushed quartz. The quartz is mixed with the resins in the ratio of 93:7 in industry.
Cost
Quartz countertop is more expensive and cheaper as well in comparison to the granite countertop. Confused? Don't be.
The prices of granite vary with the quality of stones. An exotic granite countertop is exorbitant than a quartz countertop, however, cheaper granite countertops are also available in the market.
Since both cheap and expensive granite countertops are available in the market, it incorporates all classes of people. Point for granite countertops.
Appearance
As stated earlier, granite is found in nature, so the ranges of color in which countertops are available are plenty and they are flawed in appearance.
However, no two quartz countertops are similar in appearance. Each piece is unique in itself, so when you are opting for a granite countertop, you are owning a unique piece of art.
In contrast, quartz countertops, naturally, are dull. One has to use color enhancer to make them colorful. They can be manufactured with different patterns and are the epitome of perfection.
However, this is also one of its great flaws because it gives them an artificial look, which most of the people detest.
Similarly, you can't hide the seam in granite countertops but with complex repeating patterns, seams can be disguised in quartz countertops.
Yet, the flaws of granite countertops are one of their strongest suites. Paradoxical? Right.
Durability
The durability of both types of countertops are similar, each could last more than a lifetime of a person. However, quartz is more flexible than granite countertop but granite countertops are lighter.
Installation and Maintenance
The installation of both countertops requires a professional. However, if a crack appears at quartz countertop, there is no option rather than calling a professional for maintenance.
Whereas in the case of a menial repair, there is no need to call an expert for granite countertop. One can perform the repair work on their own but if the cracks are larger, you should call for help.
Porosity
Granite countertops are porous and they require frequent sealing. Therefore, granite countertops are stain resistant as long as sealing works are done regularly from 1 to 3 years.
The sealing process can be done by anyone and takes ten to fifteen minutes at most. In contrast, quartz countertops are not porous so you don't have to worry about sealing procedure and they are stain resistant as well.
Indoor Air Quality
Quartz countertops are made up of 90% quartz and 10% resin approximately, so they consist volatile organic compounds in abundance in comparison to granite countertops. Since, granite countertops are naturally found, there is little to none VOB but it has a low amount of radon in it.
Consequently, granite countertops are less sensitive than quartz countertops in terms of sensitivity to cleaning chemicals.
Discoloration
Granite countertops can go on for hundreds of years without any discoloration. On other hand, quartz countertops discolor over time.
If quartz countertops are exposed to direct sunlight, discoloration is easily discernible. Who would want partly discolored countertops in one's kitchen, right?
Final Verdict
Granite countertops are naturally found but flawed in appearance. Yet, their imperfections make it a stunning piece in terms of aesthetics.
In addition, granite countertops have always been the symbol of great status in society due to their uniqueness.
The popularity of granite countertops is more and increasing with each passing day, so it's a luxury everyone prefers. If you chose a granite countertop, the value of your property is less likely to wane.
In fact, you might get a full return, so it is also a kind of investment if you buy granite countertops. Therefore, my preference is granite countertops over quartz countertops.
What about yours? Hopefully, you've reached your conclusion by now.