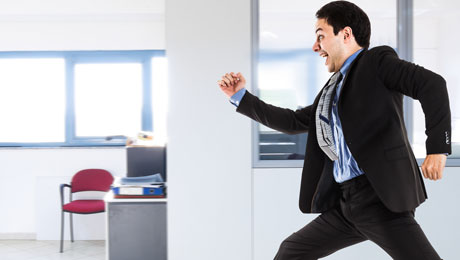 Someone who has a job nowadays is considered lucky and even luckier if he has a job that he loves and meets his expectations. Work is creation, it is a means of survival, is necessary in order to improve our quality of life and the completion of our personality but it is also painful, tiring and sometimes… unhealthy.
The working conditions of workers have improved compared to several years ago, but work continues to adversely affect our mental and physical health.
High demands, the continuing assignments of responsibilities, competition, the workload, the exhaustive time schedule, in some cases bad HR management, the low wages could lead to the burn-out syndrome.
In the mid ' 70s the term burn-out was used for the first time in the U.S.A to describe a professional pathology characterized by rapid consumption of energy and reduce work performance.
It occurs with greater frequency in those who work in the social sector (doctors, nurses, social workers, etc.). However, apart from health care professionals, in recent years more and more people are facing this syndrome.
Today, the working day of 10 hours and its extension because of mobiles, laptops, E-mails, SΜS, is something standard to the average ambitious 40year old.
Βurn-out is a wake up call that warns of the need for mental and physical rest, but also of a review of priorities and, more generally, the attitude to life.
What leads to Burn-out
High demands and workload.
The lack of recognition and reward of our professional skills and performance.
The lack of decision control.
The delegation of heavy responsibilities.
A bad relation with the manager.
A bad relation with the co-workers.
Monotonous work.
Exhaustive time schedule.
Lack of meritocracy.
Unsatisfactory financial rewards.
Indirectly this condition may be additionally worsened by other factors at work which exacerbate the stress, such as:
Bad lighting
Poor lighting, which affects our productivity, can cause headaches, eye strain, irritable intensity, discomfort, stress.
Noise
Workers exposed to sources of high noise of 90 db (decibels) were less productive, according to research.
In addition, employees who are obliged to undergo daily, for many hours and for many years, intense noise suffer from headaches, nausea, vertigo, fatigue, reduced wellbeing, insomnia, nervous outbursts and other psychosomatic reactions.
Loud noise also stimulates the nervous system, increasing blood pressure, heart rate and respirations causing stress.
Temperature
Working, especially outdoors, to a very high or low temperature and increased humidity levels, can be an important factor of discomfort, fatigue, stress, and other problems.
Are you perhaps a victim of it?
If you have one of the following symptoms, you could be on the verge of work overload or you may be already suffering from the syndrome.
Physical: Exhaustion, headache, digestive disorders, sleep problems (drowsiness, insomnia), hypertension, fast breathing, musculoskeletal pain, loss of libido, disorders of appetite (anorexia or increased appetite).
Psychological: Irritation, anorexia, feeling of worry, easily moved, guilt, apathy, grief, easily irritated, stress, negative mood, low self-esteem.
Behavior: Inability to concentrate, cyclothymia, unable to complete a job.
In addition to the conditions that usually lead us to this syndrome, the character plays an important role as well. People who are more prone to suffer from Βurn-out are ambitious, dutiful, hard working, competitive, and are looking for professional achievement.
Top 5 possible victims of the burn-out syndrome
Doctors and nurses
Executives and employees in high-technology companies
Air traffic controllers
Journalists
Advertisers
First on the list are health care professionals. The stress and the pain they are experiencing has occasionally become a topic of research to scientists.
The contact with pain and death, with patients and their relatives, night shifts, often the adverse conditions of work in public hospitals and in particular the high sense of responsibility can lead to professional exhaustion (Burn-out syndrome).
Work stress "breaks" the heart
A twelve year long research revealed that work stress kills. According to the conclusions of a  long study, those who are experiencing intense and chronic stress in their work area are facing up to 68% greater risk of suffering from a heart attack or angina since stress affects the very chemistry of the body.
Stressed workers who participated in the research showed the higher morning levels of cortisol in their blood. It was also noted that the relationship between stress and heart-related diseases is stronger for men and women under the age of 50.
Recovery plan
Psychologists and business coaches have one purpose: to restrict the brain burn out by:
Identify the factors that have contributed to the burn-out.
Limit what is or may become an outbreak of stress at your work.
Increase the hours you sleep. It is very important that you sleep adequately.
Do not take more responsibilities than you can.
Boldly claim what you deserve.