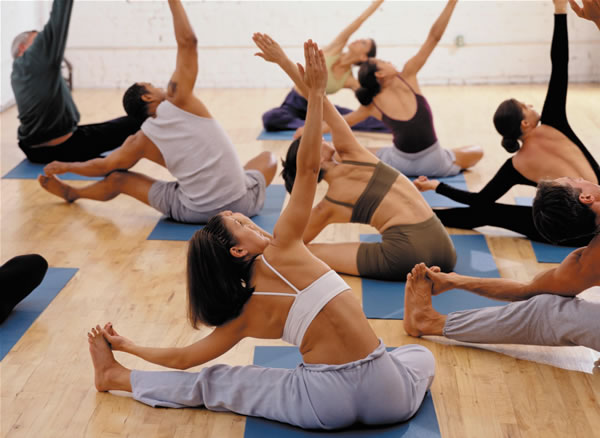 People all around the world practice various forms of yoga for numerous different reasons, such as to improve flexibility or for relaxation purposes.  However, there is some disagreement as to whether yoga is a beneficial exercise for those trying to lose weight or if higher intensity, more aerobic workouts are required to achieve this goal.
The benefits of yoga
Yoga is an ancient form of exercise that has been adopted and adapted all over the globe, with many modern forms sharing little in common with the original.  Yoga is thought to be physically beneficial in terms of toning and sculpting the body and improving flexibility, however, it is also believed to be a way to get in tune with your body, relax and become more mindful and aware of your body and its movements.
A more flexible, strong body not only has aesthetic advantages, but can also help to prevent injury in day to day life and when practising other sports, in fact it may even improve performance.
Yoga is practised by millions, with everyone from supermodels, to health experts, to professional athletes swearing to the benefits of regular practice.  There are many different types of yoga, all of which offer different focuses and benefits, so there is a form that will suit most people, whatever they hope to achieve through their practice.
Can yoga help you to lose weight?
There is some debate as to whether yoga is beneficial in terms of weight loss.  Yoga is in general a slow form of exercise, based on hold poses, stretching and strengthening muscles.  It is not an activity that burns a lot of calories when compared with other sports or forms of exercise.
An hour of regular yoga will result in about 240 calories being burnt for a person who weighs 150 pounds, which is significantly less than the 350 calories that could be burnt in the same time frame doing a more intensive form of exercise such as aerobics.
Despite the low calorie burning potential however, there is some evidence to suggest that yoga may be in some way beneficial for weight loss, or at least helpful in avoiding weight gain.  A 2005 study set out to investigate the effects of yoga practice on weight gain after the age of 45 in a quest to provide some evidence to support the common recommendation that people who wanted to lose weight should start to do yoga.
The study involved over 15,000 participants as part of the VITAL study from 2000 to 2002 and found that yoga practice on at least a weekly basis was associated with less weight gain in participants with a normal BMI and in those who were overweight, with greater effect seen in overweight subjects.
Although this was an observational study with much of the data being self-reported by subjects, it suggests that yoga practice may have a beneficial effect at least in weight maintenance, if not weight loss.
Advocates for yoga for weight loss also suggest that yoga has the effect of making the individual more mindful of their body, which in turn can lead to greater awareness when it comes to food, eating and other lifestyle choices which might impact greatly on health.
Getting in touch with your body, what it needs and what is good for it tends to encourage healthy eating habits which will have an impact on weight.
Another argument in favor of yoga for weight loss is that many new forms of yoga that are being developed are much more aerobic and intense than more traditional forms.  Power yoga for example, combine the strengthening and flexibility training that is offered by regular yoga with a more intensive, calorie burning workout and as such, these types of yoga are likely to be much more effective for weight loss.
Conclusion
In conclusion, for those who have a lot of weight to lose, traditional yoga is probably not the most efficient way to do so.  However, in combination with another form of more intense aerobic activity such as running, aerobics or swimming, it can be very effective and even help prevent injury.
Power yoga or other forms which combine aerobic exercise with traditional forms may be suitable as a form of weight loss if practiced regularly and combined with a healthy diet.
For those wishing to maintain a healthy weight or to prevent weight gain over the years, yoga is an excellent way to achieve this and has numerous additional benefits for you overall physical and mental health.