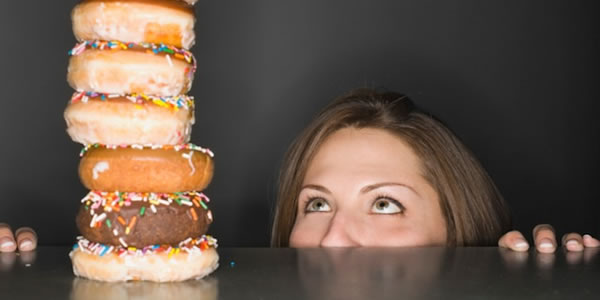 Why do we overeat?
Many people believe that food can bring satisfaction, relief, acceptance and healing. However, food does not do that. Overeating is a "tool" that people have developed in order to balance somehow their lives.  Although we are eating for many reasons, most people tend not to realize exactly why.
Emotions and overeating
However, eating the wrong types of food is not the only reason for overeating; six additional emotions can also lead to that. These emotions are:
Anger
Enjoyment
Sadness
Fear
Interest
Surprise
Eating because of happiness and anger are the most usual ones nowadays. It is very common to combine a celebration with food. We do that even for simple occasions such as going to the cinema. In order to stop relate food with emotions we should follow some small steps while eating.
How to break the association of food with emotions
Eat slowly
In order to slow down eating, you should follow simple advices such as to drink water while eating. Also, chewing thoroughly is the second most important advice. It is true that it takes more than 10 minutes to feel food satisfaction and understand that you are full. Also, according to a research led by the University of Florida, obese people need approximately 20 minutes to reach this level of satisfaction. In general, eating in a slow pace ensures that your brain has received these important signals of food satisfaction.
Make your first bites matter
Scientists believe the most of food enjoyment comes from the first bites of your meal. Specifically it is believed that after the first four to five bites, the sense of taste starts losing its sensitivity and stop being so good. Thus, keeping the taste pleasure high from these first bites can help you stop eating when you feel full and comfortable.
Take your meals seriously
Be more conscious about the whole eating process. For example, try not to eat while walking, driving, watching television or sitting in front your computer. This is because when we are distracted or in a hurry, the calories we get tend not to be registered well with our brain. This can lead to overeating, unconscious eating and more calories added to our meal without understanding it. Thus, give more attention to your food and identify when you are feeling full.
Choose foods that satisfy you
Try to avoid foods high in calories but small in amount. Foods such as chocolate, milk shakes and full fat cheeses will give you a lot of calories in small amounts and your brain will not have the time to identify immediately that you are full sooner. Scientists recommend that food higher in fiber and protein are more likely to please your stomach without reaching the point of overeating. For this reason it is recommended to add salads to your meals and fruits as snacks.
What makes food satisfying?
According to research, three factors can help a food become satisfying. These are the fiber content of the food, the protein and the weight of the food itself.
In 1995, different kinds of food were tested in terms of food satiety. According to these data, 38 foods were found to be higher in satiety than the rest. Specifically, some of the foods that scored the higher number were: porridge, whole meal bread, eggs, bran cereal, baked beans, cod, oranges and apples. All these foods are high in fiber and protein.
Regarding satiety, the foods that scored the lowest score were foods high in fat, sugar and refined carbohydrates. Specifically foods with a low score in satiety are potato chips, white bread, candies and all kinds of sweets.
Can exercise help with overeating?
As a nutritionist, I believe that exercise in terms of helping overeating comes second. The most important thing is to take care of what you are actually eating. Not how much you eat, but what you eat.
Exercise is of course great and will help you with the prevention of heart diseases, depression, muscle tone and well being, however, it is not enough for overall weight loss and overeating control.
The key to keep a healthy eating and balanced body weight is to eat when you feel hungry but stop when you are comfortable.