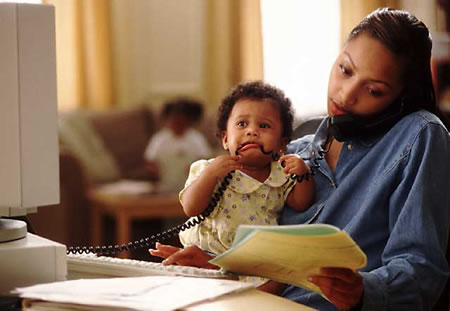 The lifestyle of the modern woman creates the necessary conditions for the development of chronic stress. Apart from the increased volume of daily commitments both at home and at work, women are more vulnerable to stress and other negative psychological states.
It is a fact that physical fatigue and burnout from the pressing daily activities have fewer adverse effects on their health and relationships than the stress transferred home from work.
Stress can be the cause of an unhappy marital life. Work stress carried home can negatively influence marital relationships. High levels of chronic workplace stress generate tension and disagreements between the couple which eventually can lead to divorce.
These findings should be taken very seriously by both men and women. It is more than necessary to understand what causes stress at work, how to manage it effectively and also how to minimize the impact on their own behavior and effects on the people in their surroundings.
Working women from their side should not surrender to chronic stress with all its negative consequences and neither should quit their job believing that they cannot handle stress.
There are several things that a woman can do to manage workplace stress and enjoy a better quality life:
1. Set priorities
This is a key aspect of the strategy for dealing with stress. What should be done first? What is the most important in relation to home and work? Do not underestimate the effectiveness of setting priorities. Always have a list of what is most important to do first and allocate your time and energy accordingly. The classification of priorities to 'high' and 'low' allows you to work more efficiently and relieve you from pressure and stress.
2. Explore new things
Are there any opportunities to learn new things that will enable you to develop new skills? Consider whether further education could open you new horizons to work in a new department (or company) that suits you better. Also examine whether you can build better time management skills so that you do your work more efficiently saving time and energy.
3. Talk about your problem
Do you feel that you are left alone when under pressure? Talk to others about your problem. Maybe some of your colleagues had similar problems, talk to them, exchange ideas and learn from their experiences.
If you feel that you are overloaded by duties or obligations, tell your boss with a calm and friendly way, giving reliable arguments.
4. Learn where to go for your complaints
In many organizations there are people in the HR department to accept and examine complaints. You can talk to them without fear or shame and ask them to help you out. There is the chance to be given good suggestions to address your problems.
5. Approach your problems with a 'different eye'
Sometimes when you have problems you cannot solve, it's better to take a break, relax and try to approach things from a different perspective.  Try to see things with a different lens and use your judgment to suggest solutions. What would you tell a friend that had the same problem? Maybe that advice is applicable for you as well. This method removes stress and allows you to better handle situations arising from work.
6. Spend time with family and friends
Engage into activities and hobbies that give you more pleasure and energy. Ensure that you're feeding your spiritual, mental and emotional world. Spending quality time with friends and family can help you effectively tackle difficulties and manage daily stress.
7. Keep your office organized
Your office and any other area you use at work must be neat, clean and organized. When it is messy, dusty, overcrowded and disorganized it can create bad mood causing loss of time with inefficiency and increase stress.
8. Rewards
When you complete a job you did well, do not forget to reward yourself with something you like. You need to keep your motivation levels high and always have clear goals on what you want to achieve. Your desire to meet your targets is what will help you going in difficult situations.
9. A healthy lifestyle is always the best cure for stress
Remember that a healthy lifestyle with plenty of sleep, regular exercise, healthy eating, happiness and relaxation will protect you from the deleterious stress.
If, despite your efforts, you feel that there you cannot manage stress, do not be afraid to seek help from experts. Your doctor or psychologist can give you advice and guidance to get through the difficult situations.
Unfortunately stress is part of our life and for the working woman the effects of stress are more visible. Instead of considering stress as your enemy take the effort to make it your ally for a better quality life.