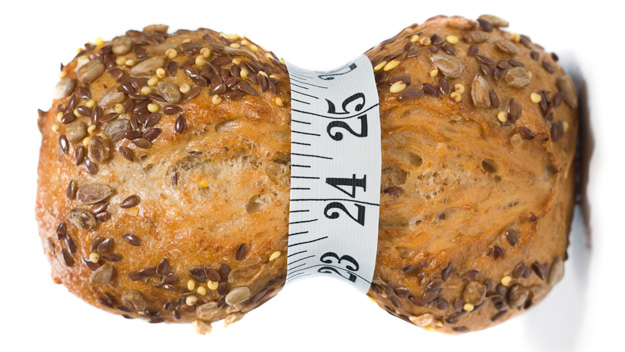 Counting the grams of carbohydrate that you are eating and limiting this amount has become popular with those following low carbohydrate diets.  These types of diets often prescribe a certain amount of carbohydrate per day, with some offering an eating plan which provides this restriction and others offering a more flexible approach where the individual needs to calculate their daily carbs to make sure they stay under the limit.
However, counting carbohydrate requires an in depth knowledge of food products, label reading skills and extra time for calculation of serving sizes and carb content for everything that goes into your mouth.
It is a restrictive approach to weight loss and can be difficult to maintain in the long term for this reason.  Not only this, but counting carbs, whilst limiting intake, does not take into consideration different types of carbs and their differing effects on the body, nor does it allow for control of the other foods that are no carbohydrate based that are going into your body.
Why people count carbs
The main people that need to count carbs are those with diabetes, for whom the carbs they eat are of utmost importance to avoid high or low blood sugar levels that can be very dangerous.  These people lack or are insensitive to the hormone needed to remove sugar from the blood and into cells for energy.  For people with diabetes, an even spread of carbohydrates over the day, and knowing the carbohydrate content of specific foods in order to be able to work out appropriate medications is essential.
People who are following a low carb diet may choose to count them in order to avoid over consuming them and people doing a lot of sport and physical activity may choose to count them to aid performance and recovery.
However, for healthy people, there is no need to count carbohydrates and simple common sense when it comes to portion size and choosing the healthiest options should be enough to lose or maintain weight.
Will counting carbs help with weight loss?
Counting  and limiting carbohydrate intake  will only contribute to weight loss if the calories that you are consuming overall are less than you are burning in exercise and physical activity.  For many people, reducing their intake of carbohydrate based foods does result in weight loss as they do not replace these foods in their diets, thus they end up eating less calories than they did previously.
Weight loss in the first few weeks of a low carbohydrate diet can also be deceptive as a higher protein diet tends to result in the excretion of more water, which leads to a drop in weight.
There is no doubt that counting and restricting carbs can lead to weight loss, but it is not likely to be long term and may not even cause weight loss in the first place if you do not pay attention to the rest of your diet.  A diet that is low in carbs, but still high in calories due to a high fat or protein content is unlikely to result in weight loss.
Counting carbs may contribute to losing weight if the rest of your diet is balanced and healthy and reducing carbs cuts back on the amount of calories you eat.
Which is better for weight loss, counting carbs or counting calories?
In terms of weight loss, overall calorie intake is more important.  The amount of calories you consume must be less than you burn to lose weight.  However, that isn't to say that carb counting will not result in weight loss, if the calories from other sources are also considered.
The drawbacks of carb counting
Whilst there is defiantly a possibility that carb counting will help with weight loss there are a number of drawbacks which mean that it may not be an ideal approach for everybody.
It is time consuming, anti-social and inconvenient.  
Counting the carbs in everything you eat makes it difficult to eat out, increased the time spent on a supermarket reading labels of all the foods and makes it difficult to participate in social events based around eating.  It can also lead to disordered and obsessive eating behaviours if taken to extremes.
It may not result in weight loss
If the other parts of the diet are not controlled and calories are not in deficit, this type of diet will probably not cause weight loss.
Restricting carbohydrates can lead to nutrient deficiencies. 
Although they have a bad reputation, if you choose the right type of carbohydrates they can be an important source of B vitamins and fibre which are essential for good health.  Carbs also provide energy for our body which is necessary to carry out day to day functions and particularly important if you are doing a lot of exercise as part of your weight loss regime.  Foods containing carbs such as fruit and some vegetables also provide valuable nutrients.
Focus on quality and keep quantity in mind for best results
When trying to lose weight and improve health, there is no right approach for everyone.  Some people will find counting carbs effective and easy to follow, whilst others will find it more difficult and therefore not a long term solution for weight loss.
In general, for the best results in terms of health choose low GI, high fibre carbs which cause a more stable blood sugar result and keep you fuller for longer.  Choose the least processed options to obtain the most nutritional value from the food.  There is no doubt that refined carbohydrates such as table sugar and white bread can be detrimental to health and can also be big contributors to weight gain.  (See also: 20 ways to replace sugar in your diet)
In terms of quantity, bear in mind that many carbs are easy to over eat such as pasta, rice and cereals.  A more sustainable and practical approach may be to measure out a serve size according to the packet and get used to what this looks like on a plate.  It will then be easier to stick to this serve size later on and keep portions to a sensible size.
If you are looking to reduce calories, it is handy to have a rough idea of higher and lower calorie options when it comes to carbs (and other foods), so that you can make a lower calorie choice where needed.
Simple choice such as eating an English muffin instead of a bagel in the morning cuts the carbohydrates and calories in the meal substantially and requires little effort.  This is a more relaxed approach to counting the grams of carbohydrates in everything you eat and may be a more sustainable approach to weight loss in the long term.