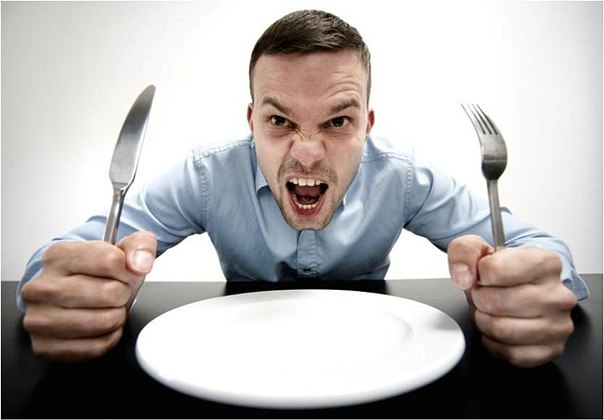 Do you ever wonder why you are always hungry? How many times have you seen a situation where you prepared your favorite food, you ate the first big portion, you ate a second and thought of eating a third portion shortly afterwards? Let's see below what conditions can keep you hungry all the time.
When we do not drink enough water
Thirst is often confused with hunger. When we do not drink enough water, the body turns to food because it is confusing thrust with hunger.
What to do? Drink as much water you can per day. The daily needs depend on several factors, but 1-1 ½ liter a day is the average recommended.
When we are on a diet
Usually when we are dieting and we cannot control the quantities of food we consume, we prefer to avoid our favorite chocolates and foods we like and we tend to exclude carbohydrates from our diet.
What do to? Deprivation brings cravings and false hunger. So, by adding something sweet or some carbs (e.g. spaghetti) in your weekly diet program, you can manage to bypass hunger.
When we don't eat a variety of foods
A craving for a particular food is sometimes a warning that we lack certain vitamins. Thus, for example, the desire for cheese can mean lack of calcium and the desire for chocolate shortage of carbohydrates.
What to do? Follow the Mediterranean diet pattern. Make sure that you eat fruits, vegetables, legumes and whole grains, dairy products (in moderation), nuts and olive oil and limiting meats and saturated fats.
When we skip meals
When we are in a hurry we tend to skip breakfast or lunch and enjoy a bigger meal in the evening. Also, some people believe that eating only 1-2 meals a day will make you will lose weight faster.
What to do? Primarily, do not skip meals and make sure to eat at regular intervals small amounts of healthy snacks such as fruit, cereal, toast, milk, cereal, nuts.
When we eat a lot of sweets
The sweets increase appetite since they are rapidly metabolised. Simple refined sugars can instantly cover hunger, but due to fast digestion you will get hungry very quickly.
What to do? Prefer complex carbohydrates or at least combine sweet with milk, yogurt or fruit. Satiety is much more intense and therefore effective. (See also: 10 foods that help digestion)
When we are tired
Intense exercise, prolonged standing, walking may be responsible for increasing our appetite. With these activities we tend to burn more calories that our body needs to refill.
What to do? Before eating your meal take a hot bath to relax; this will also slow down hunger. For food try to eat spaghetti with fresh tomato sauce or an omelet with vegetables rather than resorting to ready-made meals.
When we are cold
The low temperatures affect our metabolism, increasing energy expenditure, because our body needs more energy to maintain a constant body temperature.
What to do? Avoid as much as possible foods that are rich in sugar and fat and prefer to eat protein foods (milk, nuts, lean meat and cheese) since they can keep you full for longer. If it is very cold and you need to eat fat, prefer olive oil and fish. (See also: Best fish to eat)
When you have your period
A few days before your period, hormonal changes increase the appetite. Usually you have a craving for sweet or fatty foods and often you eat something sweet and then immediately want something salty. This is also why chocolate is one of the first preferences of women during this time.
What to do? To satisfy your cravings for certain foods, it is advisable to consume a small amount of food you want, having first eaten your lunch. It is a mistake to try to avoid it completely, because you run the danger of eating larger amounts later. As for chocolate you can choose dark chocolate which is a healthier option.
When we are stressed
Poor psychological mood and stress often affect our appetite. Usually, in these cases we want to eat sweets and this is why we usually put on weight.
What to do?  Try to relax before you open the refrigerator or before eating. Stay away from foods you may consume unconsciously. If you want sweet, prefer dark chocolate, which increases serotonin levels in the brain, thus making us feel a little better.